This is the first of the aforementioned "weekly prototype" initiative…the Climbing Ape.  It is a variation I saw on the Internets, based on the traditional folk toy, the double-corded climber.
That's a funny looking ape!  Hey, this is wood class, not art class.  So my ability to cut an ape in wood was largely debilitated by my inability to draw an ape on paper.  My first sketch was loosely based on King Louie from the Jungle Book…but I suppose if you squish your eyes around, you could see some semblance of Donkey Kong with a hint of Homer Simpson.

I also kept cutting more and more away for the various parts as I fiddled with the angles needed to get good climbing action.  And my staining!  Ugh.  It was a bit reckless and haphazard, with the sanding somewhat non-existent.
But alas, that is the beauty of a prototype!  You will inevitably realize that, while I am keen to figure out the mechanics and such, I can often lose interest when it comes to the final "presentation."  I think it's the engineer in me.  :)
Anyway, this prototype was finished on April 23, 2011.  Musical Inspiration:  "Wanna Be Like You" from The Jungle Book.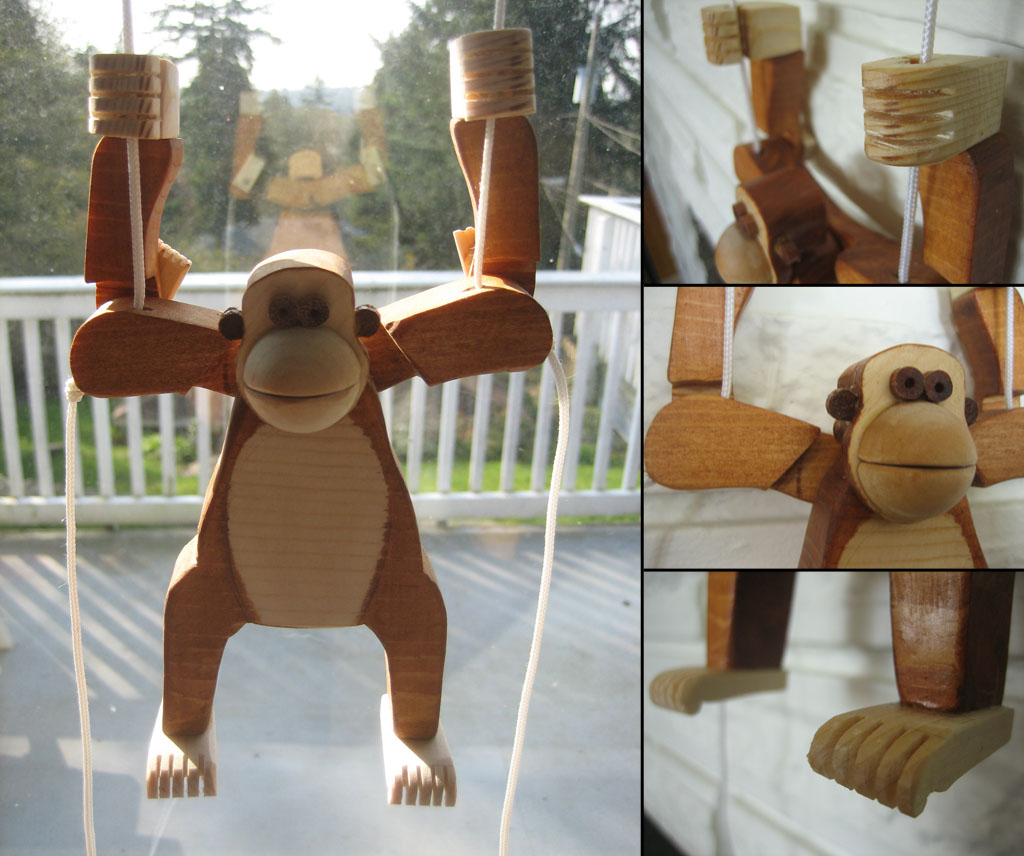 And a demonstration of how the Climber works.  There are also some photos of the first prototype when I was experimenting with the climbing angles slideshow'd at the end.  It's possible I spent more time playing with iMovie to make this video than I needed to…  :)
BTW:  You should make sure you sound is on when you watch this video…
Song:  I Wan'na Be Like You
Artist:  King Louie, Jungle Book, 1967