I'm wondering if my reluctance to put the finishing touches on the built-in is because completing the project would mean I'm willing to accept without repair the vast number of mistakes I've made along the way. Or perhaps I'm just lazy. Whatever it is, it's in a good enough state to show my nearly-finished "(multi) weekend" project.
Design
I went through a couple Sketchup iterations before we settled on a design. The set of drawers in the original design were without curves to which I thought, "Well, that's just a bunch of boxes. That seems a bit too easy."
I was incorrect.
I can say without any doubt that going with curved drawers solved the problem of the project being "too easy."

To think that I almost went with kicker drawers for shoe storage, instead of a fixed kicker board, as well…thank goodness I did not.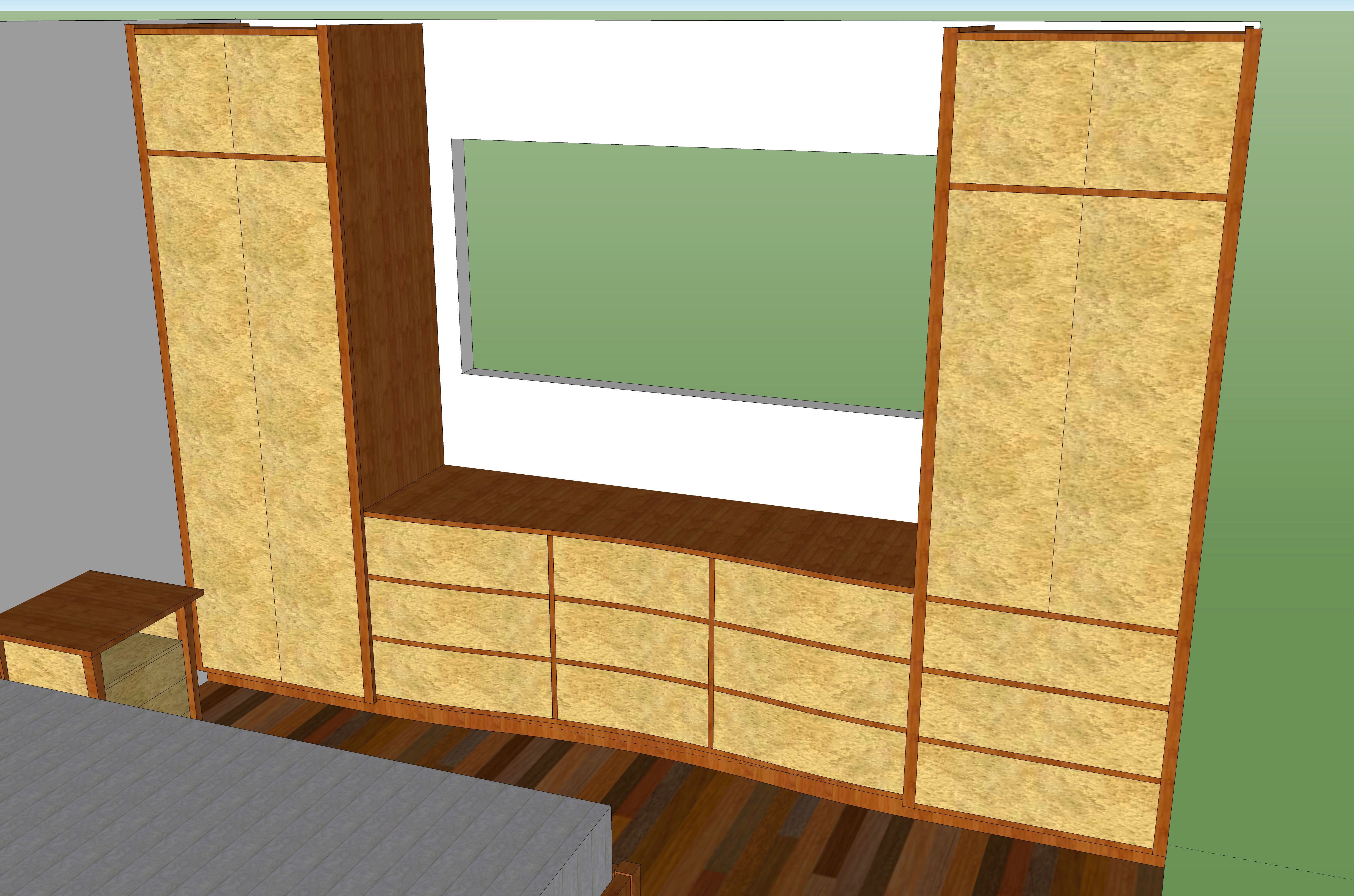 Rapid Prototyping
To get a sense of how much space this would consume and how dominating the floor-to-ceiling cabinets would feel, we spent an evening "rapid prototyping"…because, ya know, that's how a couple of engineers like to party on a Friday night!

We had actually tried this against the other wall earlier in the year, but it just never felt right. Plus, the boxes stuck around for far longer than they should have. I realized they made amazing cubbies and refused to give them up…
…I eventually gave them up.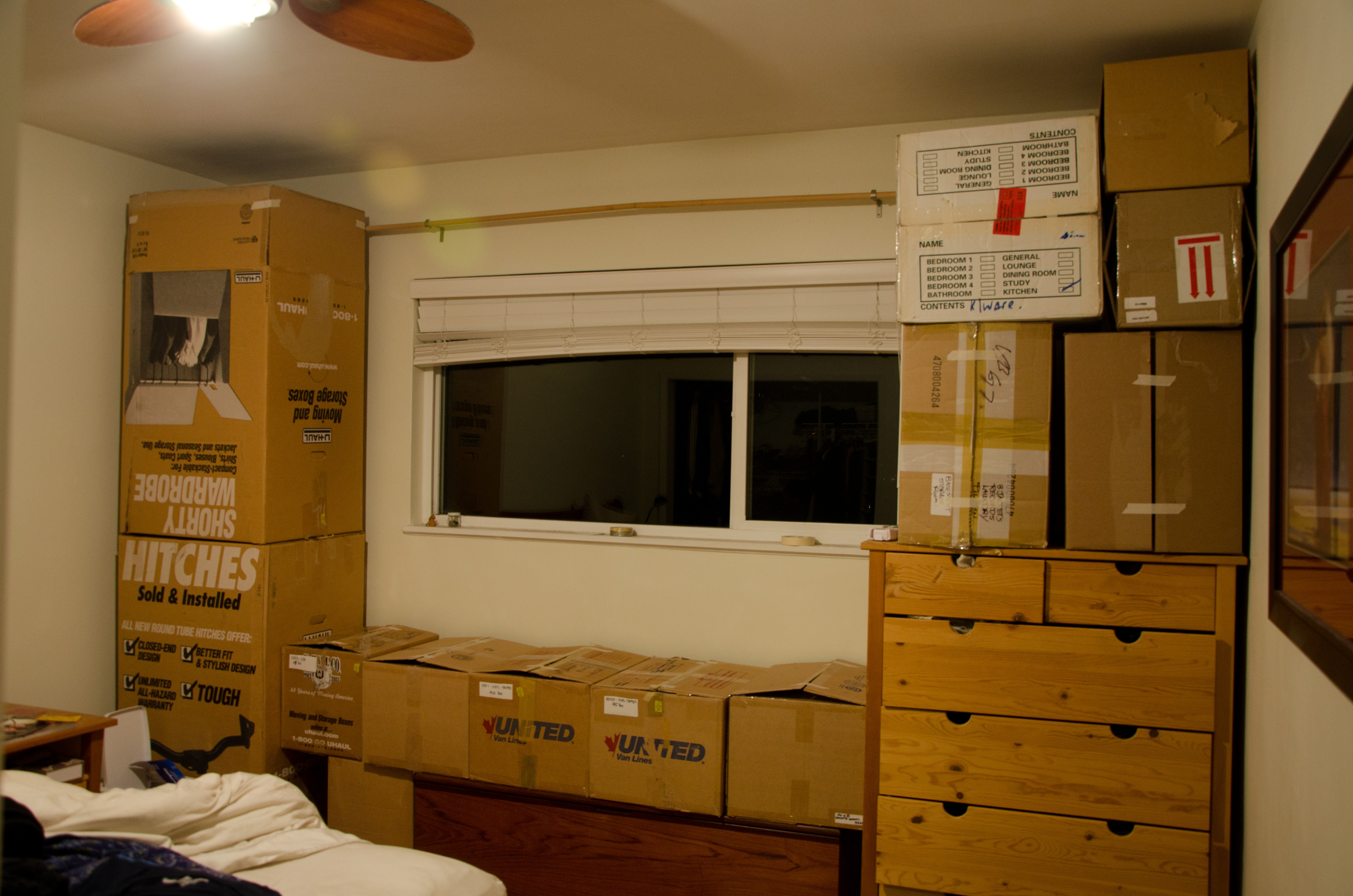 Implementation
Despite the plethora of glaring mistakes that only I seem to notice, I'm fairly happy with how it turned out. The curved drawers seem to work well with the subtly curved nightstands and bedframe, as well as the two-tone staining. The floor-to-ceiling cabinets also seem to make the room feel larger.
Specifications:
Maple ply for cabinet carcass
Baltic/Russian Birch for cabinet doors and drawers
Solid maple for trim and handles
16″ top cupboards for seasonal storage
6'6″ cabinet for full-length clothing and shoes
4′ cabinet for half-length clothing
All cabinet doors have 110deg inset soft-close hinges
All drawers have full-extension ball-bearing glides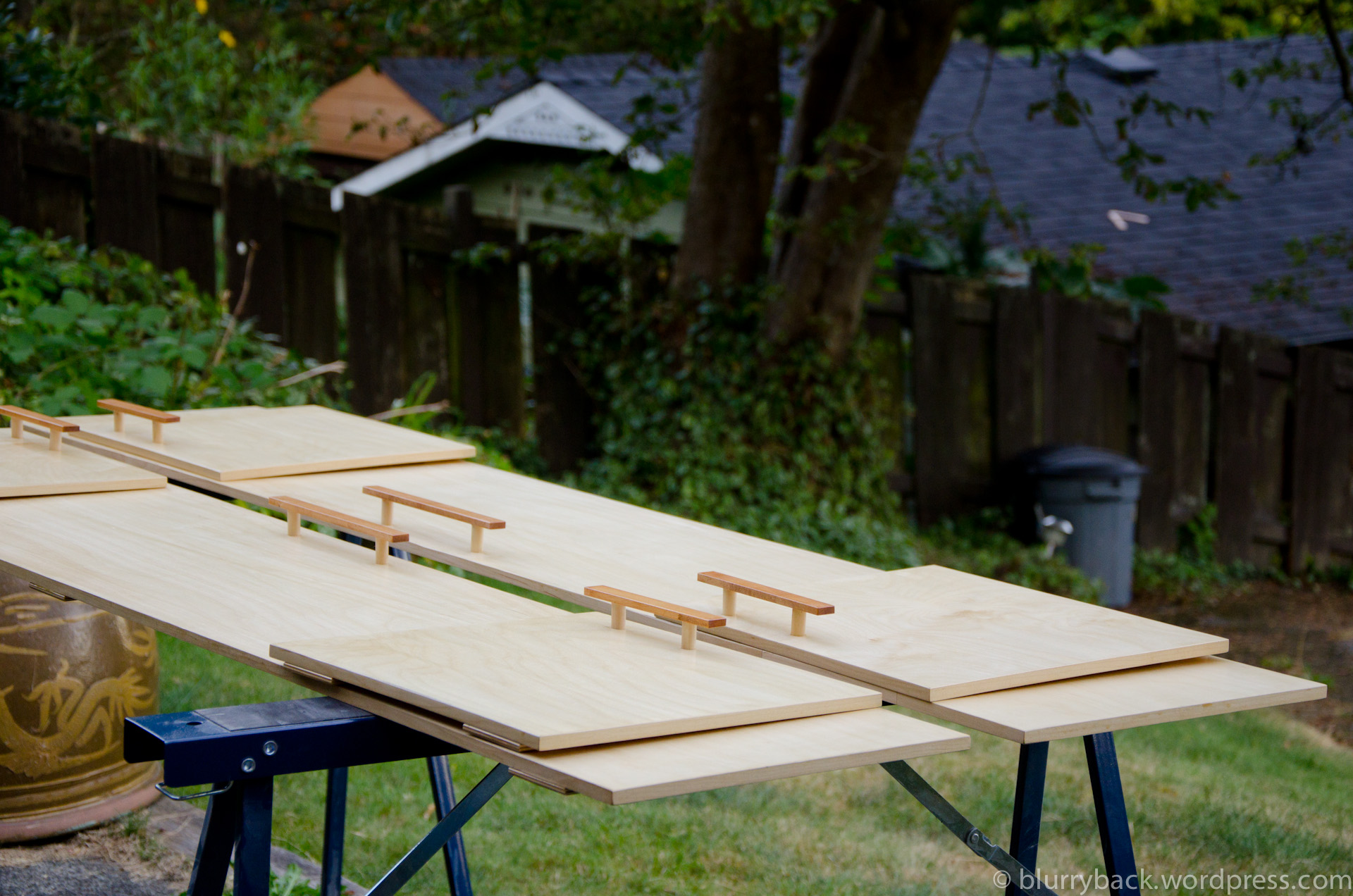 There's also a heat vent just below the center drawers. So with any luck, come winter, that'll automatically warm up my clothes in the morning. That's right, my friends, no more heating my underwear in the microwave before work!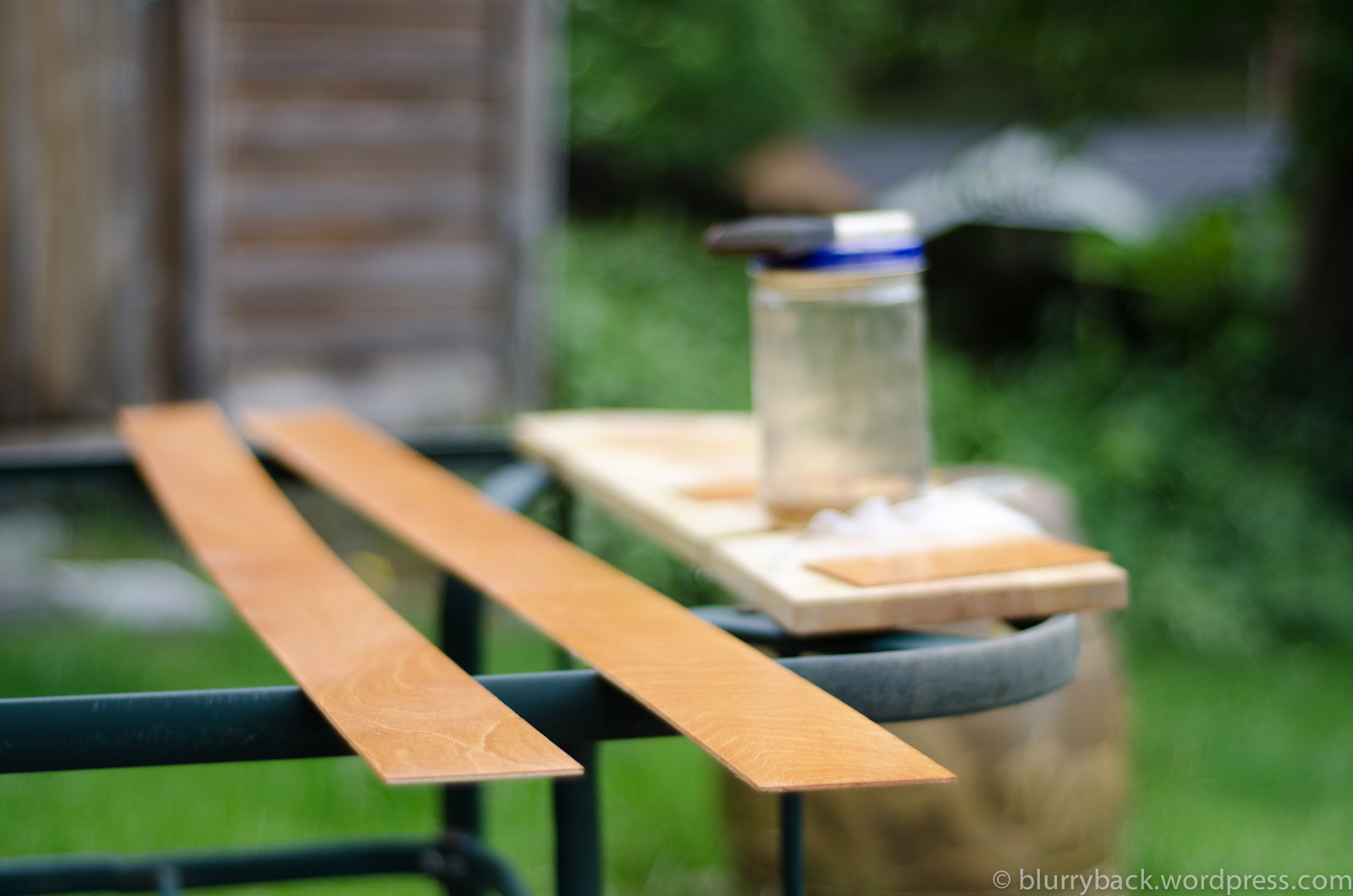 I just have a few things left to do at some unknown time in the future…
Hanging Rods. I've been debating whether or not to make the rod holders or just buy them. No, I will not be making my own hanging rods. Although…
Stop Blocks. Because they are inset hinges, I need to install stop blocks for the 8 cabinet doors so they don't over-close
Heat Vent. I need to make some sort of wooden-slatted heat vent to cover the gap under the center drawers where the old heating vent is.
Trim. Likely needed around edges, particularly where the cabinets meet the wall/ceiling.
Anyway, hope you like it! But, again, it was probably not worth the effort to make these drawers curved.

A Before-and-After Timelapse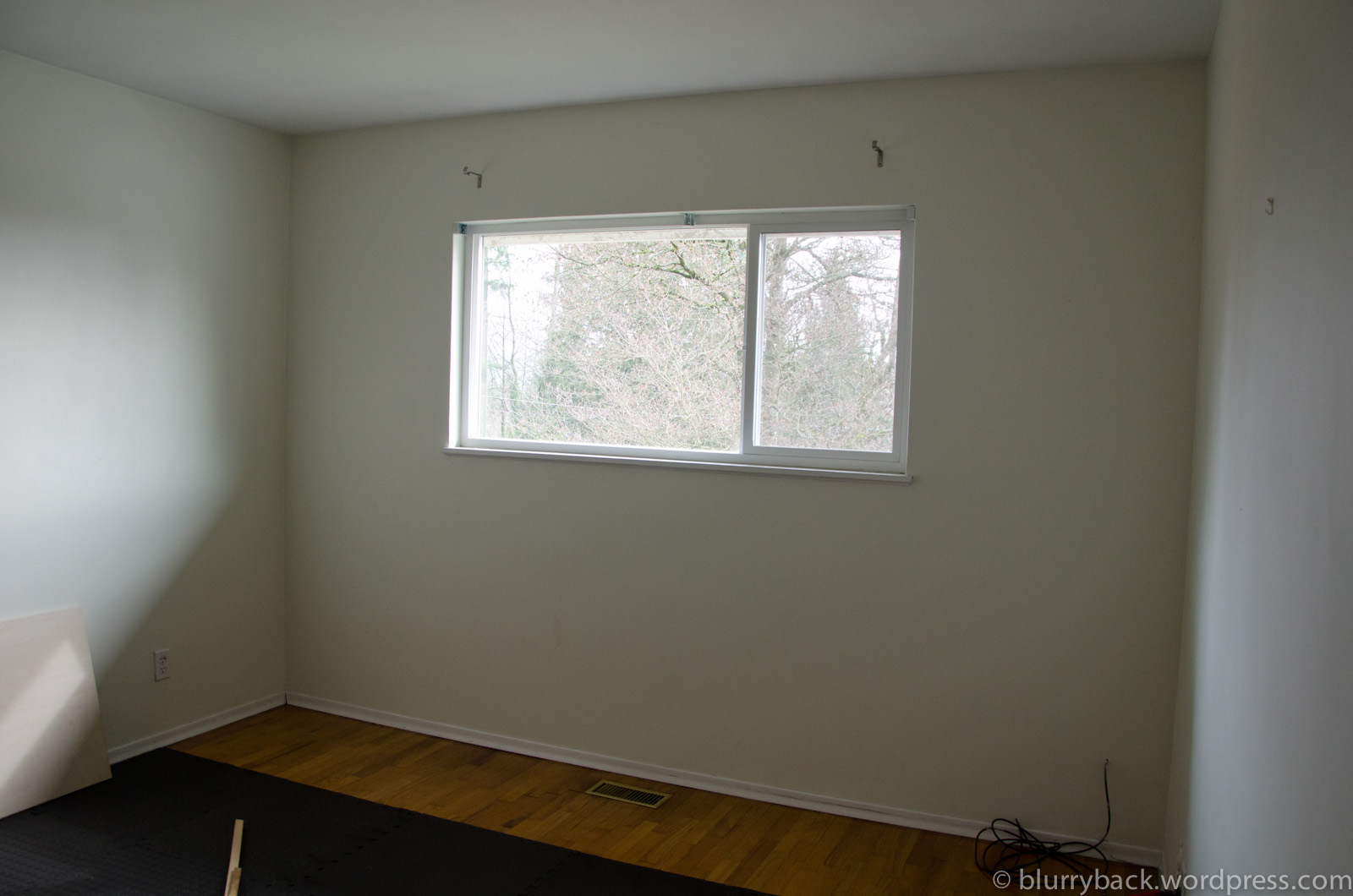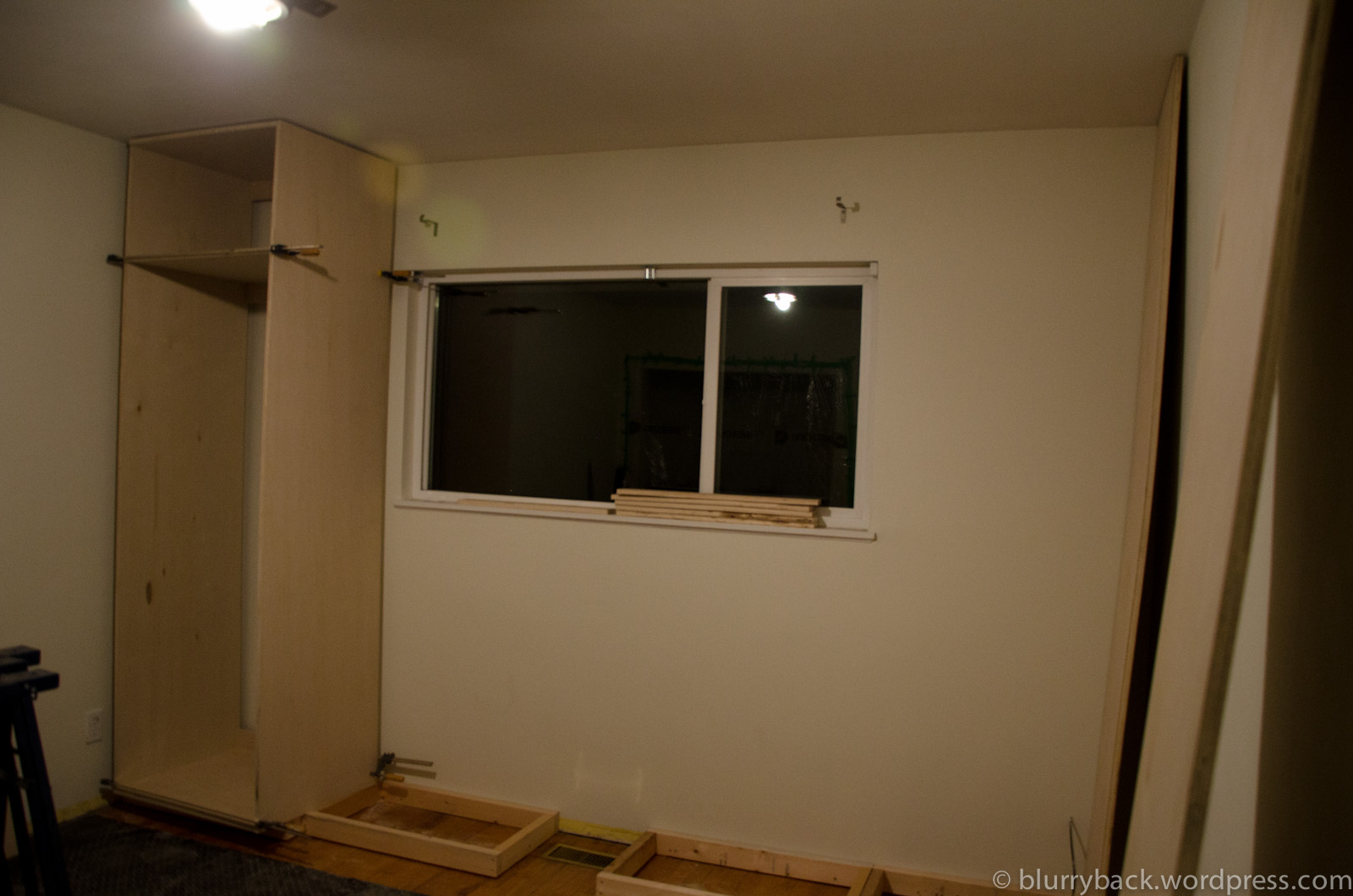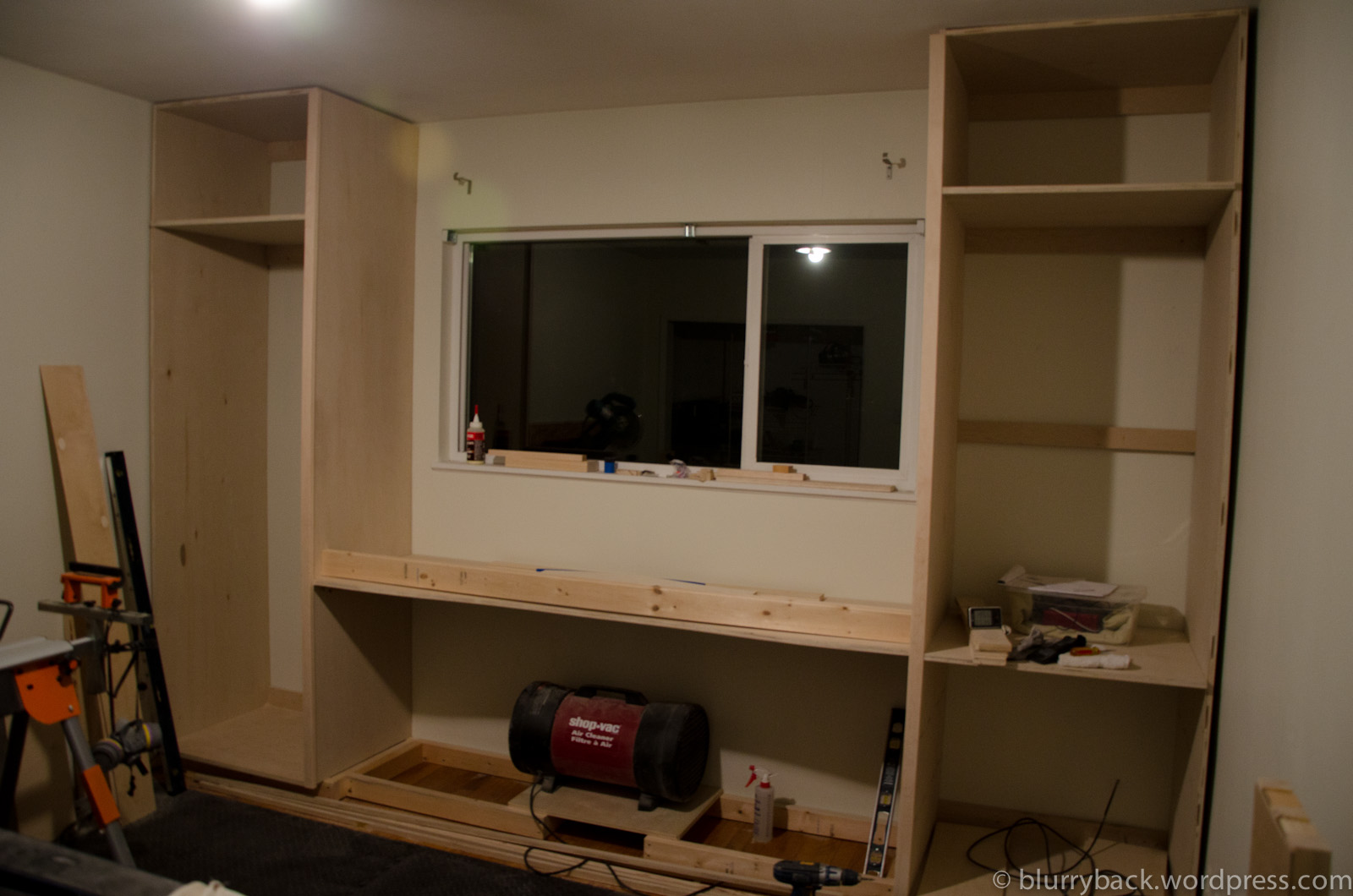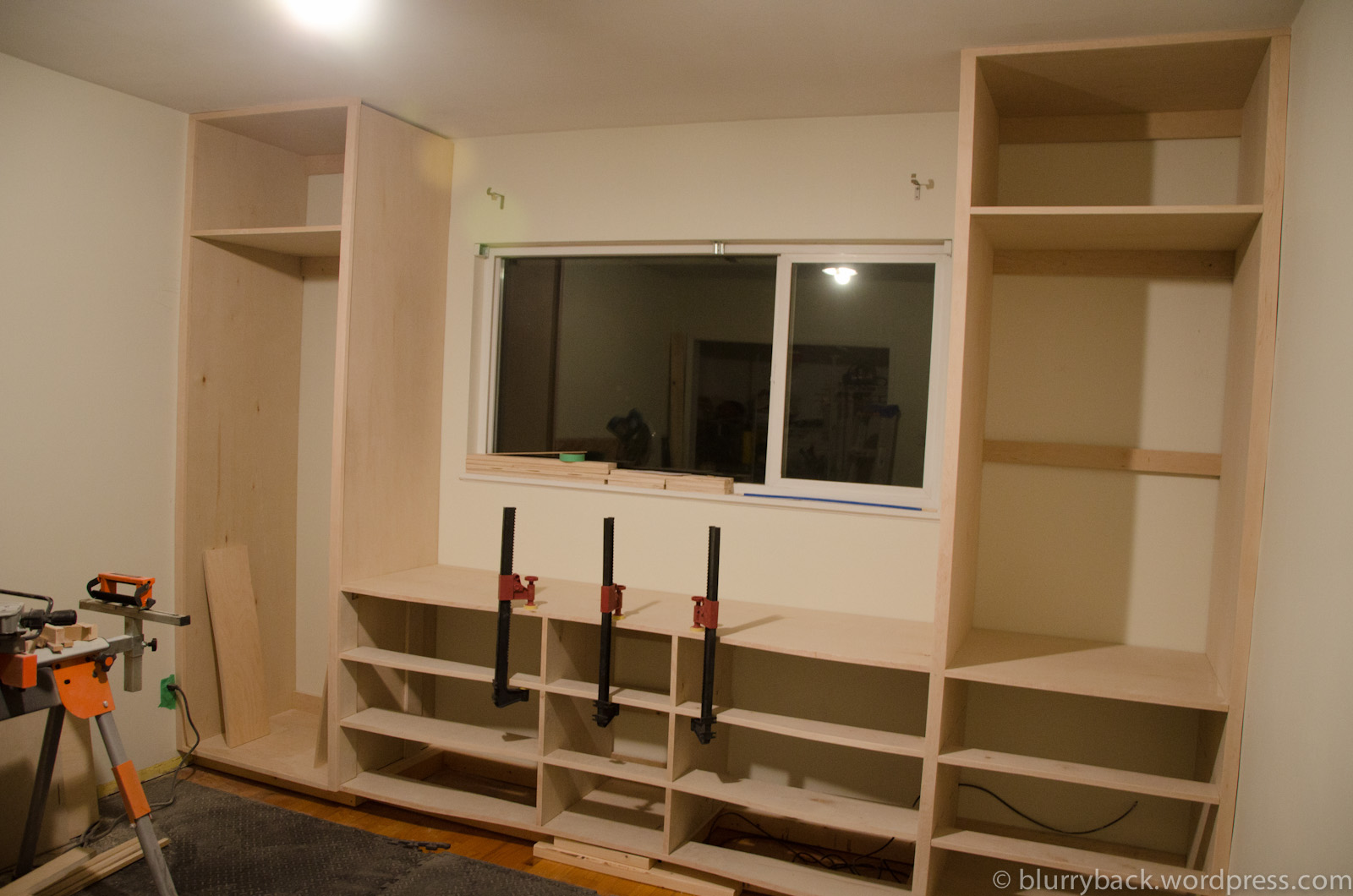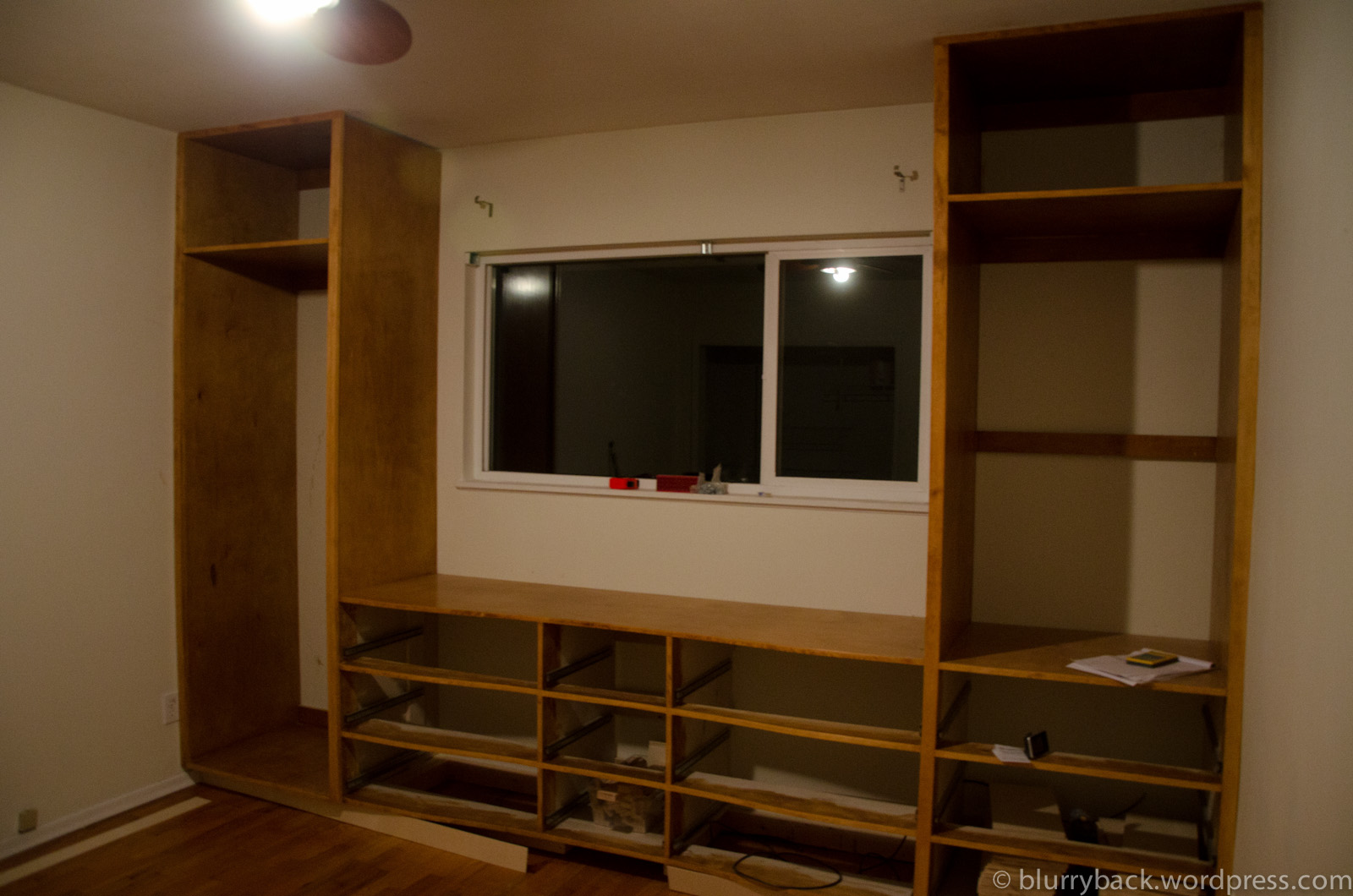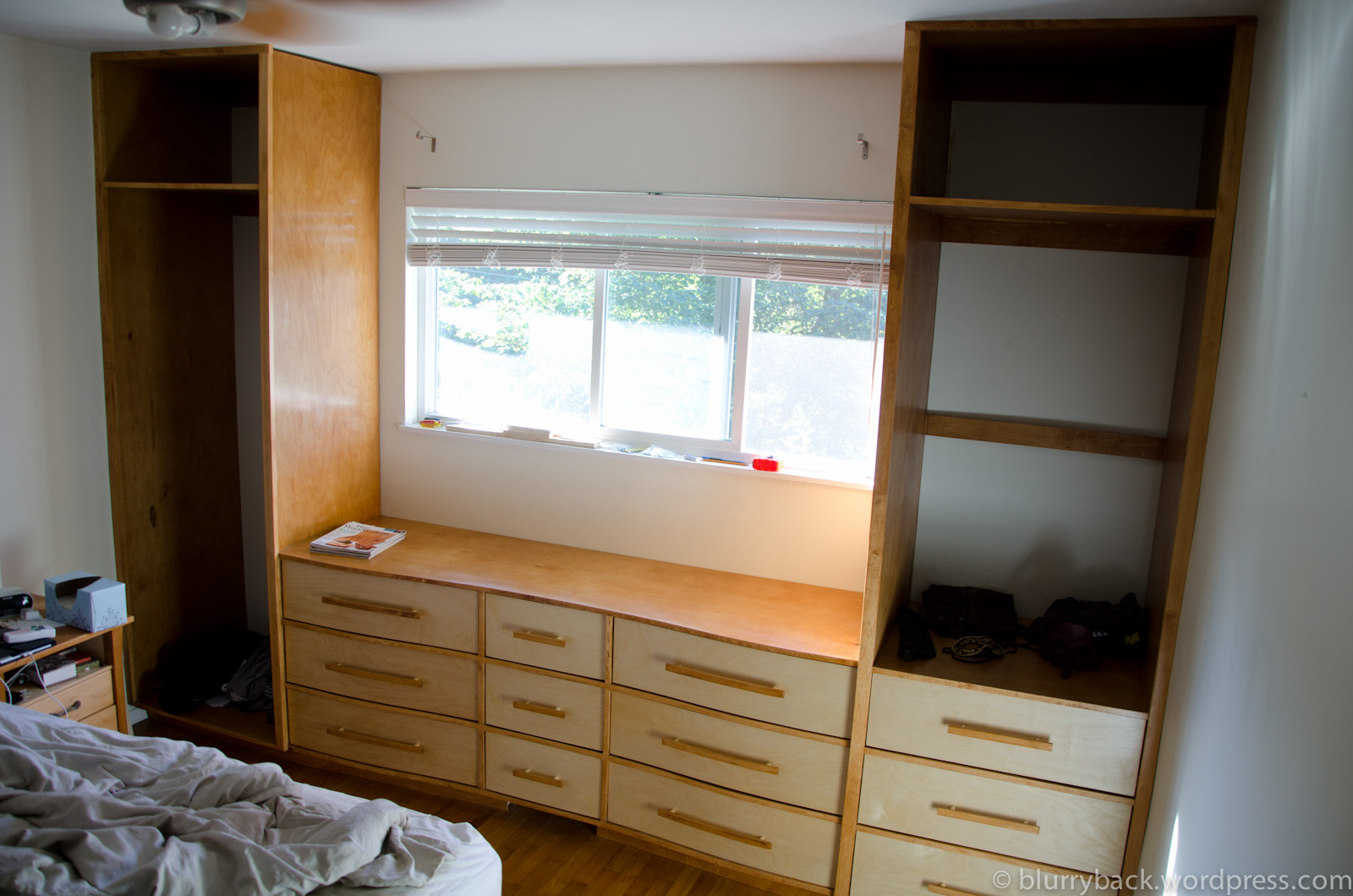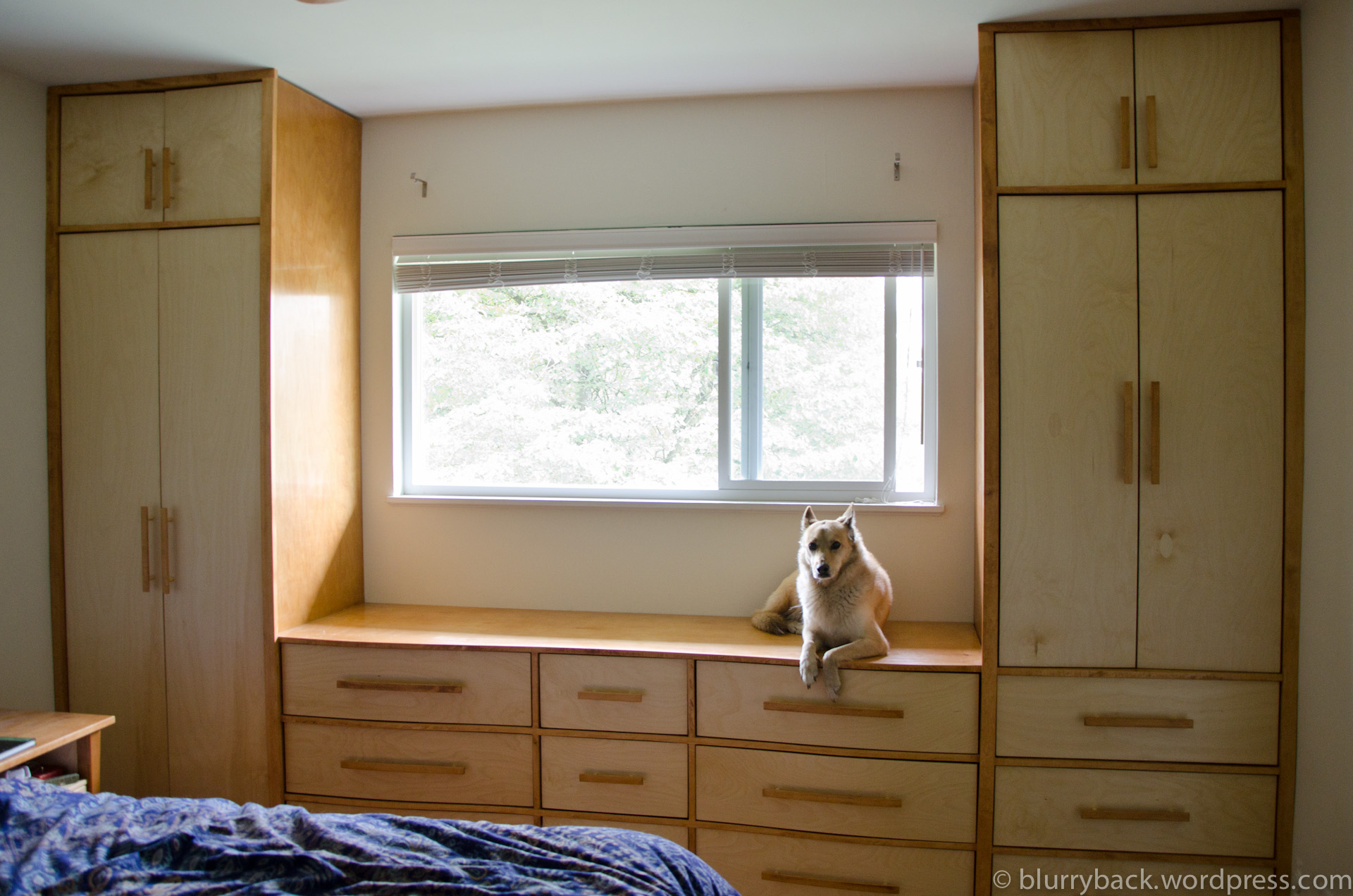 Related Links: